1
« Last post by viola1980 | Yesterday at 23:15:42 »
Roundscape Adorevia - Version 3.5A (Kaliyo, Red Dakkar)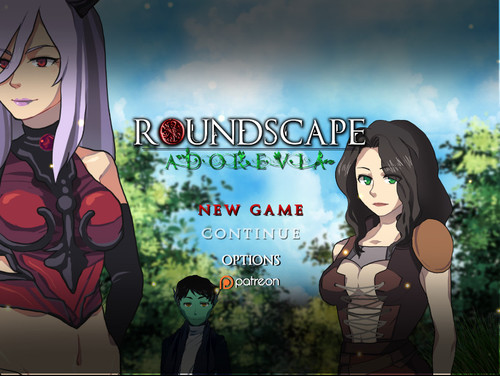 Adult Porn-Game NFOUpdated:
20-July-2018

Genre:
RPG,Vaginal Sex, Oral Sex, Anal Sex, Group Sex, Adventure, Big Tits, Fantasy, Combat, Patreon Game,Kaliyo,Oral, Anal, Extreme, Exhibitionism, BDSM, Futa,Shemale, MILF, Prostitution, Interracial, Bukkake, Titfuck
Censorship:
None
Developer / Publisher:
Kaliyo
Platform:
PC / Windows
Version:
3.5A + WALKTHROUGH

Language:
English
Size:
4.70 GB
Overview:
So the game starts out in one of 5 ways of your choice, eventually you end up in a small town and go on a quest to prevent some evil being. You can choose your gender and there are some exclusive scenes for each gender. The world of Adorevia is one fraught with danger, but also adventure for those brave enough to seek it. Walk the lush forests, see the magnificent dwarven city-states, and help stop a terrible threat that could spell doom to countless innocents as you head out on your quest! Of course, along the way, you'll find other brave souls willing to share in your adventures, and perhaps, your bed.​
Cheat Codes:
1700 - Super Speed
1819 - Gold
2931 - Skip Combat Skill
Change-log v3.5A
Bugfix
v3.5
The Eastern Expanse has been added to the game!
Explore the eastern expanse, it's a large new area with 20 new maps!
You can unlock the new area in Slinsk after Act II.
Your own Ship! Get your own ship, explore the sea. Upgrade your ship and unlock new skills to fight stronger pirates and other enemies.
Sea Battles! Try your luck in ship battles, with a bit of luck you even may get your hand on stygian pearls which are used to get special, powerful Items!
New Quests! Of course the new Area comes with a new large Storyline and a few Sidequests.
10 new adult Scenes! From lovely goblin to strong centaur. We're sure this patch got something for everyone.
Engine Update! We've updated the engine from 1.5.1 to 1.6.1 while making sure that old savefiles still work. Let us know in the comments if perfomance has improved.
New Dialogue UI! We've reworked the dialogue UI for a more neutral look. This way the dialogue windows should fit to any situation!
Nameboxes! The most important NPC's now have their name shown above their Face art. We've added this due the high amount of characters ingame.
New Augments! As example: The Automation Orb allows you to put one character in auto combat mode.
New Items! Of course you can obtain several new Items in this new Area! Some of them come with completely new mechanics.
The fancy Shovel! Allows you to dig! For treasure and stuff!
Roundscape_Adorevia_-_Version_3.5A__.part1.rar
Roundscape_Adorevia_-_Version_3.5A__.part2.rar
Roundscape_Adorevia_-_Version_3.5A__.part3.rar
Roundscape_Adorevia_-_Version_3.5A__.part4.rar
Roundscape_Adorevia_-_Version_3.5A__.part5.rar
Roundscape_Adorevia_-_Version_3.5A__.part6.rar
Roundscape_Adorevia_-_Version_3.5A__.part7.rar
Roundscape_Adorevia_-_Version_3.5A__.part1.rar
Roundscape_Adorevia_-_Version_3.5A__.part2.rar
Roundscape_Adorevia_-_Version_3.5A__.part3.rar
Roundscape_Adorevia_-_Version_3.5A__.part4.rar
Roundscape_Adorevia_-_Version_3.5A__.part5.rar
Roundscape_Adorevia_-_Version_3.5A__.part6.rar
Roundscape_Adorevia_-_Version_3.5A__.part7.rar